About Bertucci's: The Story
---
CLASSIC ITALIAN FOOD AND HUMBLE ITALIAN BEGINNINGS
Our first kitchen opened in 1981 in the Davis Square neighborhood in Somerville, MA. Inspired by great Italian food from family recipes and with a brick oven at its center, every Bertucci's since then has remained true to our tradition of serving classic Italian food made to order, using the freshest ingredients. We've perfected the art of brick oven cooking in our open kitchen for all our guests to see and more importantly, taste!
We're firing up brick ovens from New England to Virginia, with each Bertucci's restaurant reflecting the same passion for serving authentic Italian food made from scratch. Our goal is to provide you with a family dining experience that you can't find anywhere else. Over the years, we've become your favorite neighborhood Italian restaurant serving Italian food handcrafted from the heart. We love being your choice for casual pizza night and anytime you gather family and friends around the table. Visit us today and see for yourself what makes us the best Italian restaurant in town! Want to know more about the Bertucci's story and humble beginnings? Check out the Bertucci's Through The Years timeline below.
BERTUCCI'S MENU IS HANDCRAFTED FROM THE HEART
We believe great Italian food should be prepared fresh daily, from our tomato sauce to our dough which is made from scratch and given the proper time to rise and proof. Taste the fresh baked goodness in our famous signature rolls, garlic knots and brick oven pizzas. All of our classic Italian dishes are handcrafted using only the best ingredients which is why Bertucci's has been your family favorite since 1981.
Our tomato sauces for pizza and pasta dishes are made from scratch daily with our own blend of tomatoes and hand-cut fresh herbs. The tomatoes for our sauces are grown exclusively for Bertucci's in California and are harvested and blended to Bertucci's specifications. They are then packed and shipped to every Bertucci's restaurant to prepare our homemade tomato sauces.
Fresh vegetables are chopped and roasted early each morning and throughout the day. They add a special flair to our menu, including many of the toppings on our signature brick oven pizzas. We pride ourselves on the authenticity and flavor served in every Bertucci's location and we believe it's a difference you can taste in every dish on our menu. Hungry? Click below to find a Bertucci's near you!
BRICK OVEN PIZZA AND PASTAS
What's so special about brick oven cooking? Everything! Brick ovens have been used in Italian restaurants for centuries because the high heat cooks the food quickly and evenly, resulting in a perfect dish every time. And at Bertucci's, we believe better flavor starts with fire and use only the freshest ingredients to create our mouth-watering classic Italian food.
Bertucci's brick oven fires start early every day to be the perfect temperature to roast fresh vegetables in small batches. With cooking temperatures reaching 675 degrees and a radiant flame from the oven floor touching 1150 degrees. The intense heat of our ovens locks in freshness and enhances the natural Italian flavors of our artisan brick oven pizzas, pastas, fresh vegetables and seafood so that every dish offers a bold and truly unique flavor.
The Bertucci's brick oven chefs are true artists bringing decades of experience to every dish with many chefs passing on our time honored traditions. So the next time you are dining around the brick oven, we invite you to see who's cooking our famed fiery brick oven pizzas with all your favorite classic toppings. Taste the difference of our brick oven cooking in our classic Italian entrees like Chicken Parmigiana, Lasagna Rustica or Shrimp Rossini that are touched by flames for added flavor. No matter what Italian restaurant favorite you order, we guarantee it will be cooked to perfection in our brick ovens. Want to know more about Bertucci's? Check out our FAQ here. Hungry for Bertucci's tasty Italian food?
Bertucci's through the years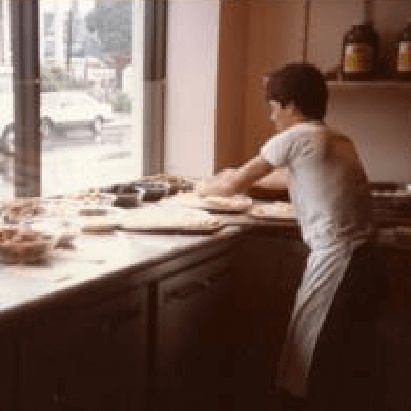 1981

1981: Inspired by a visit to his grandmother's home in Italy, young entrepreneur and ice cream shop owner Joey Crugnale opened the first Bertucci's Brick Oven Pizzeria in Davis Square, Somerville, MA. Complete with a custom made brick oven at its center and a bocce court in its basement, the original Bertucci's became a popular local spot, recreating the family experience Joey fell in love with in his grandmother's kitchen. The restaurant used only the freshest ingredients to make its signature pizzas, many of which are still on the menu today.
1985


1985: The second Bertucci's opened in Kendall Square, Cambridge, MA and number three opened in Holliston, MA shortly thereafter.
1989

1989: Growth continued with the opening of our 14th restaurant. USA Today listed Bertucci's as one of America's top 10 pizza restaurants.
1990


1990s: Bertucci's brick oven pizza story was told outside of Massachusetts, with Bertucci's locations opening from Florida to New Hampshire and as far west as Illinois.
2011


2011: Bertucci's celebrated its 30th birthday by bringing back some classic dishes from our earlier menus.
2021


2021: November marked a major milestone. Bertucci's celebrated its 40th Anniversary! There are currently Bertucci's restaurants up and down the east coast from Manchester, NH to Springfield, VA. Every one of them adheres to the simple concept that Joey started 40 years ago: Great food from the freshest ingredients, good friends and family, and the brick oven at the heart of it all.
2022

2022: Bertucci's announced a partnership with celebrity chef, Christian Petroni, with the addition of his signature Italian cuisine to the Bertucci's menu. Chef Petroni brings new energy to Bertucci's with new menu items featuring reimagined tastes and flavors while staying true to its authentic Italian roots.